Welcome to Heiwa nomi no Mājan taisen.
Table of Contents
Registration closed!!!
Introduction
To make this tournament as comfortable and pleasant as possible, please take your time and read through the etiquette page. We would be honoured if you would live by it together with us.
Registration
This two day tournament, MERS 2+, will take place from 2023-04-15 to 2023-04-16. The number of participants is currently limited to 60. Up to 2 extra tables can be added if the number of people on the waiting list are divisible by 4. The registration fee is 60€ (55€ for DMJL members) and should be transferred three weeks before the tournament to the following account:
Account Holder: Manuel Kameda-Schlich
IBAN: DE71 5776 1591 0183 6651 20
BIC: GENODED1BNA
When using a voucher, please state it in the message!
Registration closed. Please use our contact form to message us and to be placed on the waiting list.
Venue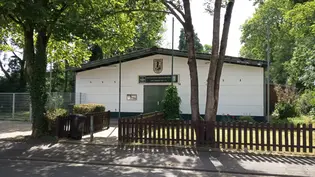 Schützenhalle der St. Sebastianus Bruderschaft
Maria Himmelfahrt Straße 10
51067 Cologne-Holweide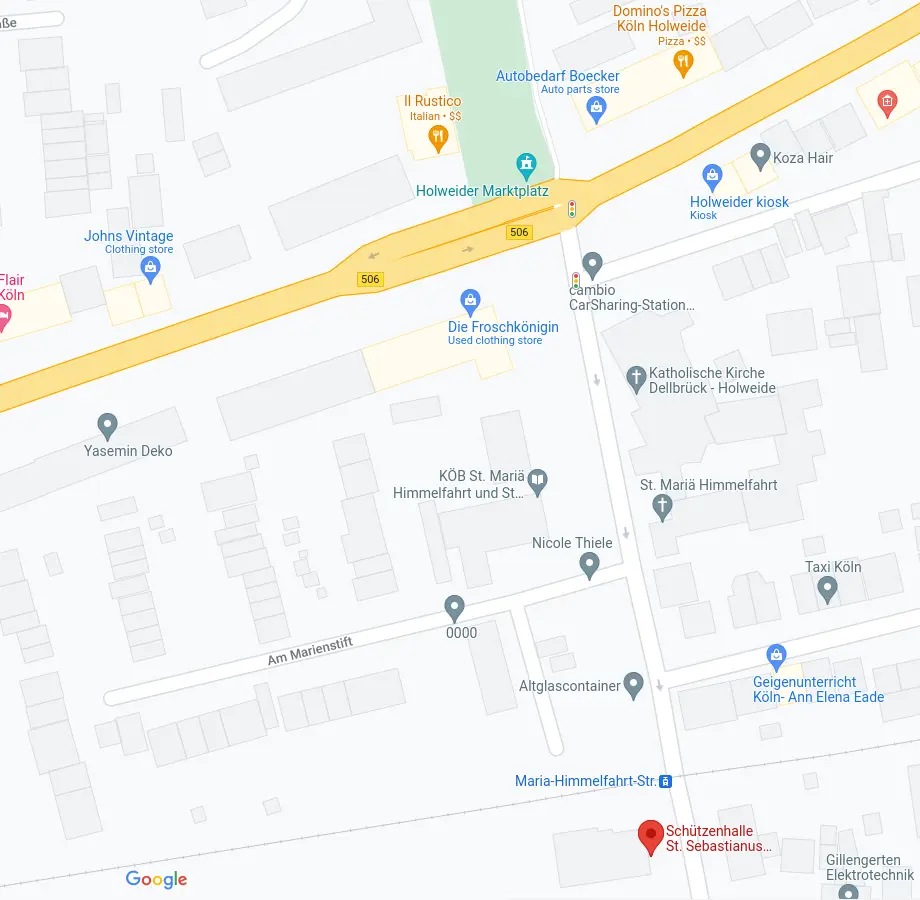 The venue is easily reachable by public transport. You can use the trams of the lines 3 and 18 to the stop Maria-Himmelfahrt-Straße.
Note: In Cologne, tram and subway are the same system. You sometimes even need to leave the tube to go on a tram, which becomes a subway again.
This tournament has 9 hanchan with 90 minutes each and will be played according to EMA Riichi Competition Rules from April 2016. The first 7 hanchan are round-robin. After that, scores of Top 16 players are halved and Top 16 play the last 2 hanchan with Swiss-system, rank 17 to 60 continue playing round-robin for rank 17 to 60. To simply organization, all players scores are halved and all players play the last 2 hanchan with Swiss-system.
For the Top 16 cutoff, a possible tie will be resolved with the higher number of won hanchan, then highest singular score.
Friday Evening
| Time | Event |
| --- | --- |
| 19:30 – 22:00 | Pre-Registration and Social Play |
Day 1 (Saturday)
| Time | Event |
| --- | --- |
| 08:00 – 08:30 | Registration |
| 08:30 – 08:45 | Opening Ceremony |
| 08:45 – 10:15 | 1st Hanchan |
| 10:15 – 10:30 | Break |
| 10:30 – 12:00 | 2nd Hanchan |
| 12:00 – 12:45 | Lunch |
| 12:45 – 14:15 | 3rd Hanchan |
| 14:15 – 14:30 | Break |
| 14:30 – 16:00 | 4th Hanchan |
| 16:00 – 16:15 | Break |
| 16:15 – 17:45 | 5th Hanchan |
Day 2 (Sunday)
| Time | Event |
| --- | --- |
| 08:45 – 10:15 | 6th Hanchan |
| 10:15 – 10:30 | Break |
| 10:30 – 12:00 | 7th Hanchan |
| 12:00 – 12:45 | Lunch |
| 12:45 – 14:15 | 8th Hanchan |
| 14:15 – 14:30 | Break |
| 14:30 – 16:00 | 9th Hanchan |
| 16:00 – 16:30 | Break |
| 16:30 – 17:00 | Award Ceremony |
Participants
| # | Given Name | Surname | EMA Number | Country | Status |
| --- | --- | --- | --- | --- | --- |
| 1 | Leonie | Kleineick | | Deutschland | DEF |
| 2 | Junyu | Wang | 05000006 | Germany | DEF |
| 3 | Lanxin | Zhang | 05000007 | Germany | DEF |
| 4 | Timur | Hahn | 05100153 | Germany | DEF |
| 5 | Julian | Nowakowski | 05100171 | Deutschland | DEF |
| 6 | Tian | HANG | 05000011 | Germany | DEF |
| 7 | Joël Linh | Van Leuven | 02010054 | Belgium | DEF |
| 8 | Henri | Devillez | 02010074 | Belgium | DEF |
| 9 | Haddou | Keil | 02010089 | Belgium | DEF |
| 10 | Anh Sophie | Noël | 02010076 | Belgium | DEF |
| 11 | Pierre | Chabert | 02010080 | Belgique | DEF |
| 12 | Tine | Weckhuyzen | 02010043 | Belgium | |
| 13 | Zheming | Jin | 05000012 | Germany | DEF |
| 14 | Nadine | König | 05900002 | Deutschland | DEF |
| 15 | Luc | René de Cotret | 02010082 | Belgium | DEF |
| 16 | Christopher | Mielke | 05000009 | Deutschland | DEF |
| 17 | Jasper | Germeys | 09990047 | Sweden | DEF |
| 18 | Anna | Zubenko | 21000014 | Ukraine | DEF |
| 19 | Anastasiia | Veremenko | 21000067 | Ukraine | DEF |
| 20 | Rudi | Kopmanis | 02010025 | Belgium | DEF |
| 21 | Masson | Aymeric | 02010086 | Belgium | DEF |
| 22 | Thibault | Vroonhove | 02010073 | Belgium | DEF |
| 23 | Jakub | Bacic | 19000066 | Poland | DEF |
| 24 | Marta | Bacic | 19000067 | Poland | DEF |
| 25 | Jos | Dermout | BE 02010039 | Belgium | DEF |
| 26 | Chris | De Roock | BE 02010038 | Belgium | DEF |
| 27 | Léonie | Serrier | 02010079 | Belgium | DEF |
| 28 | Adrian | Fornalik | 19000120 | Polska | |
| 29 | Pieter | Potmeer | 08010436 | Nederland | |
| 30 | Sabine | Manten | 05100100 | Germany | DEF |
| 31 | Miłosz | Meller | 19000077 | Polen | DEF |
| 32 | Joe-Calberson | HUYNH | 04040048 | France | DEF |
| 33 | Tran Thai | Le | | Germany | DEF |
| 34 | Arnaud | Renard | 02010058 | Belgium | DEF |
| 35 | Stefanie | Duhme | | Deutschland | |
| 36 | Laurent | Vamecq | 02010062 | Belgium | DEF |
| 37 | Fouques | Julien | 04160081 | France | DEF |
| 38 | Piti | Phanpanich | 02010056 | Belgium | DEF |
| 39 | Sophie | DELAUCHE | 02010084 | belgium | DEF |
| 40 | Raphael | PELGRIMS | 02010085 | Belgium | DEF |
| 41 | Sveta | Yaremenko | 21000055 | Ukraine | |
| 42 | Mykhailo | Nedokushev | 21000043 | Ukraine | DEF |
| 43 | Artem | Karamyshev | | Germany | DEF |
| 44 | Theresa | Göser | 05100168 | Deutschland | DEF |
| 45 | Thomas | Kühnel | | Deutschland | |
| 46 | Ivar | Bouwman | 08010737 | Netherlands | DEF |
| 47 | Michael | Thiessen | | Germany | DEF |
| 48 | EA | Anthony | 04040105 | France | |
| 49 | Chaolei | Chen | 04160080 | France | DEF |
| 50 | Alisa | Gladchenko | | Germany | DEF |
| 51 | Maxim | Shaparau | 19000150 | Poland | |
| 52 | Thomas | Gonstas | 02010061 | Belgium | DEF |
| 53 | Jack | Black | | UK | |
| 54 | Jurgen | Brink | 08010741 | Nederland | DEF |
| 55 | Menno | Deij - van Rijswijk | 08010730 | Nederland | DEF |
| 56 | Monika | Jenjahn | 5100016 | Germany | DEF |
| 57 | Silke | Bansemer | 05900008 | Deutschland | |
| 58 | Nooa | Hanninen | 02010087 | Belgium | DEF |
| 59 | THOMAS | LEBLICQ | 02010090 | Belgique | |
| 60 | Robert | Mundel | | Germany | DEF |
| 61 | Marco | Rappe | 05100161 | Germany | DEF |
| 62 | Mariia | Zabara | No number | Ukraine | DEF |
| 63 | Manuel | Tertre | 04160092 | France | |
| 64 | Stefanie | Kammer | 05100155 | Germany | |
| 65 | Jinghan | Shi | | Germany | DEF |
| 66 | D'Agostino | Marco | | Belgium | DEF |
| 67 | Thai | Chung | 05100170 | Germany | |